Results for - The Meego - Android/iOS Simulation Game
2,258 voters participated in this survey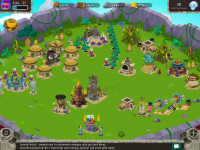 1. Have you ever played the Android/iOS app The Meego?
2. What features about this game do you like?
The cute graphics/Visual style
Ability to name & customize your meegos
Ability to interact & socialize with other players
Buying & constructing new items to decorate & design your village
3. If you lived in the crater of an active volcano as a meego, what would be your preffered responsibility?
Producing & harvesting crops
Producing & cutting wood and stone
Constructing new buildings
Breeding with other meegos & raising meego babies
Studying on the thinking rock & gaining intelligence while unlocking new items
Traveling to other meego villages to work & bring back resources
Going on quests to collect gold
05/07/2014
Games
2258
10
By: maddi
Comments