Results for - The New West Side Story
2,260 voters participated in this survey
1. My favourite Broadway and film musical is West Side Story. I have seen it performed on Broadway, at Ontario's Stratford Festival, in local productions and have seen the movie probably 25 times. The song "Somewhere" is in my top five songs ever (you may remember this from my survey of about a week ago) -- and I love the dancing and other musical numbers. So, I am anxiously awaiting the new movie release of West Side Story, which will open in theatres this December 18, directed by none other than Steven Spielberg. Are you excited for this version of West Side Story?
Love West Side Story, but not sure about this new version
Do not enjoy any musicals
2. West Side Story debuted on Broadway in 1957, and combined a Romeo and Juliet romance between Tony and Maria with a contemporary story of street gangs, racism, and violence. Threaded throughout the story is the question of who has the right to call a place home and why people who are struggling look for reasons to turn on each other. "This story is not only a product of its time, but that time has returned, and it's returned with a kind of social fury", Spielberg says about reviving the musical. The story is timeless. Can you see how the themes of this musical resonate today just as much as they did in the 50s?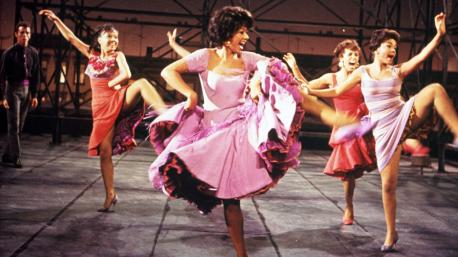 3. In remaking this musical, Spielberg wanted to retell the story with attention to detail and realism. That realism also applied to casting. Many of the "Puerto Ricans" in the original movie were white actors in brown makeup. Spielberg only wanted performers with Hispanic backgrounds to play Hispanic characters, and he estimates that 20 of the 33 Puerto Rican characters are specifically Puerto Rican or of Puerto Rican descent. In the original movie cast, Rita Moreno was one of the few cast members that was Hispanic. She won a best supporting actress Oscar for playing Anita in the original film, and, at 88, is cast in a different role in Spielberg's project. Do you agree with casting ethnic parts with actors of that ethnicity?
No, the role should go to the person best suited for the role regardless of their ethnicity
4. On October 18, before the new movie debuts, West Side Story will celebrate another big milestone -- 60 years since the movie opened. It broke the box office record for musicals and dominated the Oscars, winning 10 awards, including best picture. Six decades later, the stage show has toured the world and been revived repeatedly (a new production opened on Broadway in last February, weeks before being shut down due to the pandemic.) It's also commonly performed at high schools and community theaters so often, that many say, if you haven't seen it, it's probably because you were in it. So, have you...
Seen the musical on Broadway
Seen another professional theatre production of it
Seen a local production of it
Seen a high school production
Been in a high school production of it
10/17/2021
Movies
2260
40
By: Harriet56
Comments