Results for - Buffalo Bill's House From 'The Silence of the Lambs' Is for Sale
1,787 voters participated in this survey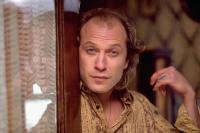 1. 'The Silence of the Lambs' was released in 1991 and won five Academy Awards (best picture, best director, best actor, best actress and best adapted screenplay) and starred Ted Levine, Jodie Foster, and Anthony Hopkins. Have you seen this movie?
2. If yes, did you enjoy this movie?
3. The house featured as serial killer Jame Gumb, aka "Buffalo Bill", in 'The Silence of the Lambs' is on the market, and its owners are asking for $300,000. Not a bad price for a four-bedroom, one-full-bath Victorian on 1.76 acres that is also a piece of movie history. Would you be interested in buying this house if you had the financial means to do so?
08/25/2015
Movies
1787
31
By: sarahzahm
Comments