Results for - 'The Wedding Singer' --All right, everybody out on the dance floor! No exceptions! Look at all the happy couples!
1,606 voters participated in this survey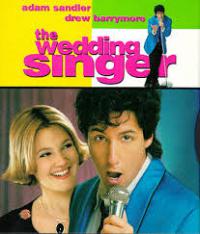 1. 'The Wedding Singer' is a 1998 comedy starring Adam Sandler and Drew Barrymore about, well a wedding singer and the girl he falls for after meeting her at a wedding venue he's playing. Have you seen this movie?
Actually never heard of it
2. The movie was full of 80's references (the years the movie action took place) and for fans of the 80's, it's also full of music and fashion that definitely takes you back. How many of these 80's inspired trivia facts about the movie did you know?
The character of George was based on Boy George, lead singer of Culture Club. He sings "Do You Really Want To Hurt Me" later in the film
Robbie tells Linda at one point to "Get out of my Van Halen T-shirt before you jinx the band and they break up". David Lee Roth did leave Van Halen in 1985 (the year in which the movie is set).
The song playing at Robbie's aborted wedding to Linda is a string quartet arrangement of Journey's
The butterfly jean jacket that Julia wears throughout the movie actually belongs to Drew Barrymore. The director liked her jacket and told her to wear it as part of her costume.
Five years before making this movie, Adam Sandler sang at his sister's wedding
Billy Idol makes a cameo at the end of the movie -- that's a real 80's throwback!
3. Several big singers got their actual start in bands as wedding singers. How many of these very famous wedding singers were you aware got their start this way?
Did not know any of these started off as wedding singers
4. Big celebrity weddings seem to need big celebrity wedding singers. Recently at Jennifer Aniston's wedding, she had mega superstar singer Sia serenade her guests. If you could afford to have any singer at your wedding (future, past or hypothetical) who would you pick?
5. That all important first dance at a wedding is always changing, depending on what's new and popular. Right now, the most requested song is Ed Sheeran's "Thinking Out Loud". But there are some enduring classics that are still tops with couples. If you are married, did you have any of these as your first dance? Or if you plan to marry, would you choose any of these?
"As Time Goes By," Dooley Wilson (from Casablanca)
"A Thousand Years," Christina Perri (from Twilight: Breaking Dawn)
"Better Together," Jack Johnson
"Can't Help Falling In Love," Elvis Presley
"Can't Take My Eyes Off of You," Frankie Valli or Lauryn Hill
"Come Rain or Come Shine," Ray Charles
08/27/2015
Movies
1606
22
By: Harriet56
Earn Rewards Live
Comments