Results for - 15 things that flew over the cuckoo's nest
1,706 voters participated in this survey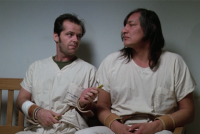 1. 40 years ago, this month, 'One flew over the cuckoo's nest' premiered. If you are a fan of the movie, here are a few things you might not know. But check off the ones that you do know:
The movie was delayed in making as the script was confiscated by Czech customs, when Kirk Douglas sent it to Milos Forman. Both unaware that this happened.
The movie was almost not distributed because Fox wanted a different ending, United Artist distributed the movie
Jack Nicholson was not first choice for 'McMurphy'; Kirk Douglas, Gene Hackman, Marlon Brando, & Burt Reynolds were also considered
Anne Bancroft, Colleen Dewhurst, Geraldine Page, and Angela Lansbury were all in the running, for Nurse Rached, before Louise Fletcher ultimately got the part.
Forman's original view of Nurse Ratched was as "the personification of evil, in the movie it was hidden in her belief that she was actually helping patients
Several of the movie's stars were not actors, but actual hospital patients
Many scenes were shot without the hospital patients knowing
Jack Nicholson and producer Forman had a huge fight which cost in production time and money
Danny Devito, missing his wife in real life, created an imaginary friend while making the movie
The crew actually worried about one of the cast members, a real patient, as he would often break down
Louise Fletcher ripped her dress off one night to show her male costars that she was still a woman and not the character of her nurse role
During the fishing scene, Jack's girlfriend Angelica Huston is standing at the dock watching the boat come back
The movie won all 5 academy awards that year
Ran forever, it seems, in the theatres ... 11 straight years
The bookwriter, Kesey, has said to never see the movie, as he believes the book is better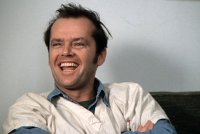 2. Have you seen the movie?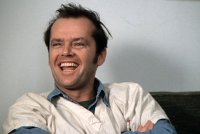 3. Have you seen the movie?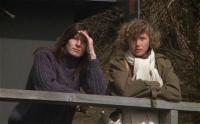 4. If you have not, will you now?
11/23/2015
Movies
1706
30
By: ptajuggalette
Comments