Results for - Movie 24 days
1,361 voters participated in this survey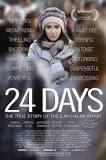 1. The movie was based on a true story: Ilan was kidnapped by Yosufa and his gang, he was tortured over 24 days, while Yosufa was demanding a ransom. Do you think you would like to see the movie?
2. If your loved one would get kidnapped and the kidnappers would ask for ransom, would you go to the police?
yes - only if I could not get the money for the ransom
3. French police reluctantly admitted it was a hate crime, mainly after the girl, who lured Ilan, confessed she was told to get a Jew. Why, do you think, the police did not want to call it a hate crime initially?
Because hate crime sounds more severe and perhaps police was trying to minimize things
Maybe hate crime requires more paperwork and follow-up actions?
12/27/2015
Movies
1361
14
By: dinosaur
Comments