Results for - 60 Years Of 'The Ten Commandments"
1,906 voters participated in this survey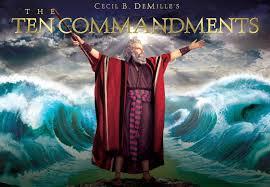 1. Every year millions celebrate Easter and Passover by tuning into the annual telecast of Cecil B. DeMille's '"The Ten Commandments", which has aired on ABC every year since 1973. In 1999 ABC decided for some reason not to air the movie, and was flooded with irate calls wondering why it was not on. Do you watch "The Ten Commandments" when it airs on TY?
Every year, without question
Saw it years ago, but not lately
Never heard of this movie
2. This year, to celebrate their 60th anniversary, the movie will be shown for limited performances in select theaters. Will you be checking your theaters to see this special presentation?
Have never heard of this movie
3. "The Ten Commandments" tells the epic story of the life of Moses (Charlton Heston), once favored in the household of the Pharaoh (Yul Brynner), who turns his back on a privileged life to lead his people to freedom. The all-star cast also includes Anne Baxter, Edward G. Robinson, Yvonne De Carlo, Debra Paget, John Derek, Cedric Harwicke, Nina Foch, Judith Anderson, Martha Scott, Vincent Price and John Carradine. Which of these trivia facts did you know?
Only 5% of the movie was shot in Egypt
Nina Foch who played Moses's mother was actually one year younger than Charlton Heston who played Moses
The last line of the film "Proclaim liberty throughout all the land, unto all the inhabitants thereof" was taken from Leviticus 25:10 in The Bible. The verse is also engraved on the Liberty Bell.
Cecil B. DeMille picked Charlton Heston for the role of Moses because he bore a resemblance to Michelangelo's statue of Moses in Rome, Italy. Heston later played Michelangelo in The Agony and the Ecstasy (1965)
The same trumpeting sound by the Hebrews as they depart Egypt is also heard in Star Wars: Episode VI - Return of the Jedi (1983).
Considerable controversy exists over who supplied the voice of God for the film, for which no on-screen credit is given, although in 2004, Heston confirmed it was his voice
Charlton Heston's newborn son Fraser Clarke Heston appeared as the infant Moses.
This film does not end with the credit "the end", but rather with "So it was written, so it shall be done".
03/18/2016
Movies
1906
28
By: Harriet56
Comments