Results for - Music By The Numbers
1,963 voters participated in this survey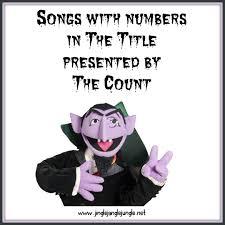 1. The famous Greek philosopher and mathematician Pythagoras once said, "there is geometry in the humming of the strings, there is music in the spacing of the spheres." Although this could be seen as mere poetry, Pythagoras was actually making a direct statement on the relationship between music and mathematics. In its most simple form, here are some of the best songs with numbers in the titles. First, off, of course, is number 1. Which of the following using the number one in the title is your favorite?
One (Is the Loneliest Number) - Three Dog Night (1969)
You're the One That I Want - John Travolta & Olivia Newton-John (1978)
One More Night - Phil Collins (1985)
One Man Band - Leo Sayer (1974)
Another One Bites The Dust - Queen (1980)
One Sweet Day - Mariah Carey & Boyz II Men (1995)
One More Night - Maroon 5 (2012)
One Bad Apple - The Osmonds (1971)
One Dance - Drake - (2016)
One Of These Nights - The Eagles (1975)
2. So, on to Number two. Which is your favorite Number two song (no not that number two, get your mind out of the toilet) on this list?
It Takes Two - Marvin Gaye & Kim Weston (1965)
Two Of Us - The Beatles (1970)
Just the Two of Us - Grover Washington, Jr. (1980)
2 Minutes To Midnight - Iron Maiden (1984)
Two Old Friends - Neil Young (2002)
Two Sides Of The Coin - Kiss (1980)
Two Of A Kind - Roy Orbison (1965)
Two Hearts - Bruce Springsteen (1980)
Two Tickets to Paradise - Eddie Money (1977)
Love Me Two Times - The Doors (1967)
3. How about your favorite from this list of songs with the number 3 in the title?
Three Times A Lady - Commodores (1978)
Three Little Birds - Bob Marley (1977)
Wednesday Morning, 3AM - Simon & Garfunkel (1964)
Three Steps To Heaven - Showaddywaddy (1975)
Three Card Trick - The Clash (1985)
Three Imaginary Boys - The Cure (1979)
Gimme Three Steps - Lynyrd Skynyrd (1973)
The Big Three Killed My Baby - The White Stripes (1999)
We Three Kings - Christmas carol (1857)
4. Here's a list of songs with numbers in their title, all of them very well known. Which is your favorite song on this list?
21 Guns - Green Day (2009)
Summer of '69 - Bryan Adams (1984)
Rainy Day Women #12 & 35 - Bob Dylan (1966)
Eight Days a Week - The Beatles (1964)
25 or 6 to 4 - Chicago (1971)
When I'm Sixty-Four - The Beatles (1967)
Seven Nation Army - The White Stripes (2003)
19th Nervous Breakdown - The Rolling Stones (1966)
24K Magic - Bruno Mars (2016)
99 Luftballons - Nena (1995)
Love Potion #9 - The Searchers (1963)
07/21/2018
Music
1963
42
By: Harriet56
Comments