Results for - Our Language, Our Identity
2,156 voters participated in this survey
1. A 16 year old Indigenous girl's rendition of The Beatles "Blackbird", sung entirely in Mi'kmaq, an Indigenous language has been viewed more than 100,000 on YouTube since it was uploaded last week by Allison Bernard Memorial High School to mark the United Nations' International Year of Indigenous Languages. This initiative raises awareness of Indigenous Languages across the world in the hopes of helping to keep them alive. The school, which is located in Eskasoni First Nation, Nova Scotia., supplements the provincial curriculum with courses in Mi'kmaq language and culture. The cover, which was sung by Emma Stevens, was produced by the school's music teacher Carter Chiasson using translated lyrics from Mi'kmaq language teacher Katani Julian and her father. Do you enjoy listening to songs in different languages?
Not usually, but in this case, I did
2. In the 19th century, the Canadian government believed it was responsible for educating and caring for aboriginal people in Canada. These residential schools were established with the assumption that aboriginal culture was unable to adapt to a rapidly modernizing society. It was believed that native children could only be successful if they assimilated into mainstream Canadian society by adopting Christianity and speaking English or French. Students were discouraged from speaking their first language or practising native traditions. If they were caught, they would experience severe punishment. In all, about 150,000 First Nation, Inuit and Métis children were removed from their communities and forced to attend the schools, before the last school was closed in 1996. Knowing all this, can you now understand how important it is to preserve and revitalize the Indigenous languages?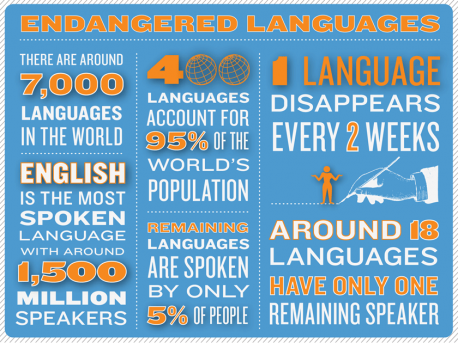 3. Endangered languages are ones that are likely to become extinct in the near future. Outright genocide is one cause of language extinction. For example, when European invaders exterminated the Tasmanians in the early 19th century, an unknown number of languages died as well. Far more often, however, languages become extinct when a community finds itself under pressure to integrate with a larger or more powerful group. Often the community is pressured to give up its language and even its ethnic and cultural identity. This has been the case for the ethnic Kurds in Turkey, who are forbidden by law to print or formally teach their language. And, as was previously mentioned, this has also been the case for younger speakers of Indigenous languages. Do you know anyone who speaks a language that is on the verge of becoming either endangered or extinct?
05/12/2019
Music
2156
46
By: Harriet56
Comments