Results for - Peace, Love & Music: Woodstock 50 Years Later
2,232 voters participated in this survey
1. This month, Woodstock celebrated its 50 year anniversary, as it was August 1969, that the multi day festival took place. It was a pivotal event in music history, as the audience of more than 400,000 people attended to hear 32 acts. Were you at the festival, and if not, do you wish you could have attended?
I was not there, and wish I could have attended
I was not there, and do not wish I was there
Too young to have attended
2. The festival was of course, all about the music, as the best of the best, plus a few "unknown" artists, entertained the crowd. Which of the acts that appeared did you like?
Creedence Clearwater Revival
Crosby, Stills, Nash & Young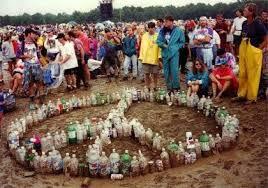 3. Although hyped as a peace festival for the hippie generation, it was not that peaceful. Organizers were not adequately prepared for the massive influx of people, which resulted in traffic jams, poor sanitation and a lack of food. The massive concert didn't come off without a hitch: last-minute venue changes, bad weather and the hordes of attendees caused major headaches. Still, despite — or maybe because of — a lot of sex, drugs, rock 'n' roll and rain, Woodstock was a peaceful celebration and earned its place in pop culture history. I was a bit too young to think about going, but my cousin, who was 19, was there. A year later, at only 14, I attended my first music festival, called Man Pop, in Winnipeg, where I saw Led Zeppelin, The Youngbloods, The Ides of March, Iron Butterfly, Chilliwack, among others. Do you remember your first music concert?
Have not attended any concerts
4. And the love part of Woodstock has for some, proven to be one of the best parts of the festival, especially for one couple -- Judy and Jerry Griffin met while attending Woodstock in 1969 when they were just 22 years old. For decades, Judy and Jerry have told people their love story, but they never had any photos of their time at Woodstock together. That is, until this summer. when they were watching the new PBS documentary Woodstock: Three Days that Defined a Generation and they saw footage of themselves. Of course, the most famous couple at Woodstock has to be Nick and Bobbi Ercoline, who were just another young couple camped out at the Woodstock festival. When a photographer snapped their picture early on that Sunday morning as they stood hugging each other while wrapped in a blanket, they unwittingly became part of pop culture history, ending up on the Woodstock festival album cover. (Seen in the photo of the first question above). They are still together, living close to where the festival was held. Have you heard any other Woodstock "Love Stories"?
Too young to really know much about Woodstock
08/29/2019
Music
2232
47
By: Harriet56
Comments