Results for - Even More Musical Distractions To Enjoy
2,456 voters participated in this survey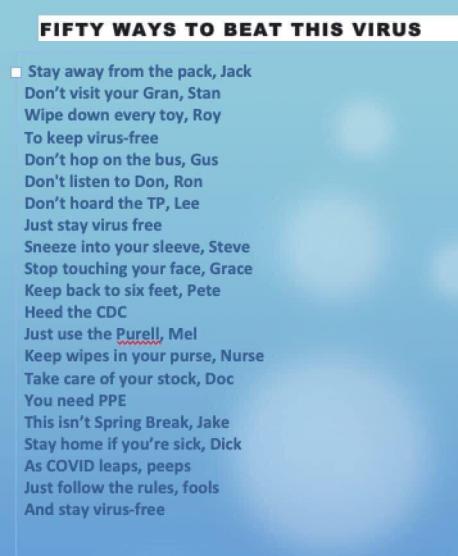 1. It's been a tough few weeks, and it looks like it's going to be tougher for a while -- hopefully these will either brighten your day or even give you a good laugh. In tough times like this, we all need to focus on something to take our minds off what we are all going through. Hope these help in a small way. This first one isn't really a video, but should be set to music. This is a take-off on Paul Simon's song "50 Ways To Leave Your Lover". I though it was genius. How about you?
2. This one is by Penn Holderness, who along with his family, creates original music, parodies, and videos on YouTube. On another survey, I posted his parody of the song "All By Myself", and here's one more. He actually vows to write a song for every day of his quarantine, if he can, and post it, just to amuse his followers and help pass the time. Have you seen any other of his parodies on YouTube?
Yes, but not on YouTube, but another social media site
3. Getting the message out there to "keep your distance", this parody of Bette Midler's "From A Distance" is getting a lot of views, and hopefully getting the message out. Do you think songs like this can reinforce how important it is to keep physically distanced from people and practise good hand washing and hygiene skills?
4. Even Disney is getting remade with this Belle/Bonjour & Something There parody from "Beauty And The Beast". What do you think of this one?
5. Just couldn't miss the opportunity to share the genius of Randy Rainbow, and his take on what we all need to do to try and flatten the curve -- in his own unique way of course. And warning, some language may offend. Do you enjoy Randy Rainbow's comic videos?
This is the only one I have seen, and it's funny
This is the only one I've seen, and don't like it
Could not/did not listen or watch
04/03/2020
Music
2456
41
By: Harriet56
Comments