Results for - You have one job: Buy one ticket for just one artist
1,837 voters participated in this survey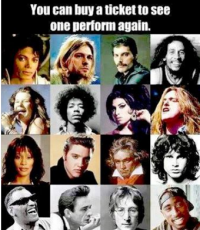 1. In the picture are noted musicians/vocalists. You find out that all will be brought back to life for a final concert. You are given the money and can buy just one ticket to a concert. Who do you choose?
Jerry Garcia (and the other Dead)
Jim Morris (with or without the other Doors)
Freddy Mercury (with or without Queen)
Kurt Cobain (with or without the other guys)
2. Is there someone else, other than the choices above that you would rather see perform who has passed away?
10/29/2015
Music
1837
70
By: ptajuggalette
Comments