Results for - Disney Flashback
1,479 voters participated in this survey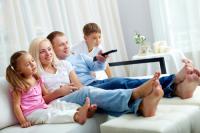 1. Did you watch the Disney channel in the 90s/early 2000s?
2. What was your favorite retired disney show?
Suite Life of Zack and Cody
3. Do you or your children watch disney now?
No one in my house watches
4. What is your favorite current disney show?
5. Do you prefer the old disney or the current disney channel?
01/12/2013
TV
1479
10
By: Ziwhtam
Comments