Results for - The L.A. Complex (TV Series)
1,584 voters participated in this survey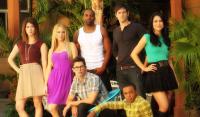 1. Did you watch The L.A. Complex on either CTV (Canada) or The CW (U.S.) ?
2. Did you enjoy the show?
3. Do you think the show did a good job of depicting stars trying to make it in Hollywood?
4. Who was your favorite character?
5. Which season did you prefer?
6. Are you disappointed there won't be a season 3?
07/27/2013
TV
1584
5
By: Dv5alan
Comments