Results for - Six Feet Under -- Your Whole Life Is Leading Up To This...
1,583 voters participated in this survey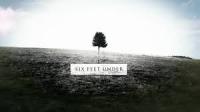 1. In 2001, when the HBO series 'Six Feet Under' premiered, no one thought a series based on a funeral home would be such a funny, witty, satirical and emotional take on both the grieving process and the process of living. Perhaps because of its stellar cast, with such notable actors as Michael C. Hall, Peter Krause, Rachel Griffins, Francis Conroy and Richard Jenkins (seen through flashbacks) or its creator, Alan Ball--known for 'American Beauty' or just the quality storylines, whatever the reason, the series worked. It aired its last episode 10 years ago, but still stands up as one of the best series on TV ever. Did you watch this series?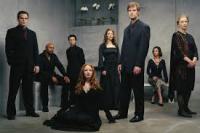 2. Here's some interesting trivia tidbits on this series. How many of these interesting facts did you know? (If you have not seen the series, just skip down to the last response, and click on N/A)
Alan Ball was inspired to write the series after his sister's death
Rachel Griffiths was cast as Brenda, even though she had a very strong Australian accent, because her audition went so well
Francis Conroy is only twelve years older than Peter Krause who plays her son
Set in Los Angeles because, according to series creator Alan Ball, LA is the "world capital of the denial of death".
In the credits of the pilot, you see a pallbearer who has a skeleton ring on his finger. The ring was digitally-erased from the credit opening thereafter.
Alan Ball specifically wrote the role of Federico Diaz for actor 'Freddy Rodriguez'.
Richard Jenkins and Frances Conroy previously played a married couple in Alex Haley's Queen.
Fisher & Sons funeral home is actually the well-known Auguste R. Marquis residence that now houses the Filipino Federation of America in Los Angeles.
Unusually, the title sequence was created after the theme music had been composed (generally, it's the other way round).
The lone tree in the opening sequence does not actually stand on the hill shown. It was dug up from someone's back yard, and placed there for the purposes of capturing the shot
Within a week of the first episode being aired, HBO renewed the show for a second season
Did not know any of these
3. Even though the series was about a funeral home, and the family running it, it also dealt with a number of topics, with both humor, respect and sensitivity. It dealt with such topics, interwoven into its story lines, as abortion, schizophrenia, mental illness, complicated sibling relationships, incest, abusive relationships, sexual identity and many more. Of course, first and foremost, it was a show about death--and how we deal with it. Every episode started off with a death, although it was not always the focus of the show. When Ball decided to "bury" the series after five seasons, he wrote the last season to tie up all his loose ends.The last episode of the series is regarded as one of the best series finales ever--and the last sequence of this episode -- with Sia's song 'Breathe Me' in the background -- is considered one of the best endings of a show ever. Have you seen the very last episode and do you agree? (Spoiler alert--the answers will give away what happens, so if you don't want to know, skip down to the last answer and click on N/A)
Saw it and loved it-- The last minutes of this show is the best by far -- it shows how everyone in the series dies, in true 'Six Feet Under' tribute
Saw it, but was not impressed
09/15/2015
TV
1583
22
By: Harriet56
Comments