Results for - 'Family Ties' Family Reunion
1,566 voters participated in this survey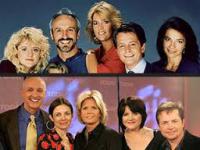 1. When Entertainment Weekly started to put together their 25th Anniversary reunion special issue, due to hit stores this Friday, October 9, one show everyone was asking about was 'Family Ties', the comedy that featured a pair of liberal hippie parents (Meredith Baxter, Michael Gross) and the conservative son (Michael J. Fox), and their daughters ( Justine Bateman, Tina Yothers). The family agreed to reunite for this special EW issue, although they admit they have always kept in touch with each other. Were you a fan of this TV show?
2. The show ran for seven seasons, and ended with Alex moving to NYC. Over the course of the show, the Keatings had a baby boy, which rounded out their family to four kids. How many of these trivia tidbits were you familiar with?
The show was modeled after producer Gary David Goldberg and wife Diane's real-life experiences as former 'hippies' transforming into suburban family life.
Goldberg named the family Keaton after Actress Diane Keaton.
Tom Hanks played Elise Keaton's brother Ned.
Tracy Pollan, who played Alex Keaton's girlfriend Ellen, later married Michael J. Fox in real life.
The black Labrador that appeared after the closing credits with the voice over 'Sit Ubu, sit' was producer Goldberg's dog, Ubu.
Michael J. Fox added the P. in Alex P. Keaton as an ad-lib in his audition, the writers loved it and kept it.
Throughout the series' run, exterior establishment shots of the Keaton home were never used in any of the episodes, which is very unusual for a family sitcom. The vast majority of all scenes were played out in the kitchen.
The cast wanted to end the show with the entire Keaton family dying in a plane crash. They absolutely didn't want to do a reunion show in the future.
Have never heard/watched the show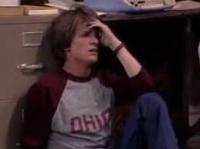 3. 'Family Ties' actually prided itself on dealing with some pretty serious and ground-breaking topics, especially for a sitcom. Here are some of the topics they dealt with over their seven year run. How many of these do you remember?
Suicide -- Alex deals with a suicidal caller on a hotline
Racism -- one episode had Alex attending a "restricted" country club
Politics -- especially the earlier episodes
Drug dependency -- Alex tries amphetamines so he can stay up late studying
One episode had an older friend of the Keatons coming on to Mallory, their daughter
One episode had the family debating whether to buy a gun for protection
Teen pregnancy -- a friend of Mallory becomes pregnant
Late in life divorce -- Elise's mother starts dating again
Alcoholism -- Elyse's brother
One episode called 'A, My Name Is Alex' even won an Emmy for writing -- episode deals with a friend's death and Alex dealing with it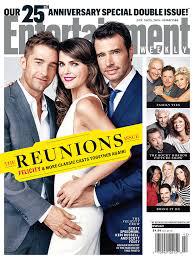 4. Entertainment Weekly is also featuring many other reunion casts for their special issue. Of course, they are not disclosing all -- you have to pick up a copy of the magazine to see which other movies or TV shows they will feature, but some have been announced. How many of these shows would you be curious to see reunite in real life (and not just for the issue's photo spread)?
The Rocky Horror Picture Show
10/15/2015
TV
1566
18
By: Harriet56
Earn Rewards Live
Comments