Results for - Meet Julia
1,538 voters participated in this survey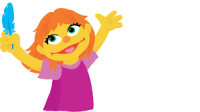 1. Did you hear about Julia, the new Sesame Street character that is Autistic?
2. How do you feel about Sesame Street introducing an Autistic character?
3. Currently Autism affects 1/42 boys and 1/189 girls. Would you have rather seen a boy character in this role?
4. Do you think this character will accomplish any of the following?
Help Autistic kids feel more included/normal.
Help non-spectrum kids better understand Autistic kids.
Reduce bullying of Autistic kids.
11/02/2015
TV
1538
19
By: MamaV1776
Comments