Results for - Murder by binge watching
1,730 voters participated in this survey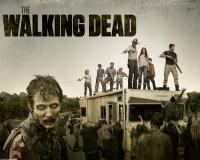 1. A New Mexico man is in police custody for murder after he says he killed his friend because he thought he was becoming a zombie from "The Walking Dead." Are you a fan of the show The Walking Dead?
2. Police say 23-year-old Damon Perry and a friend were binge watching "The Walking Dead" on Netflix and binge drinking. Then, Perry says, his friend tried to bite him. Do you enjoy binge watching multiple episodes of any television show?
3. Fearing he was turning into a zombie, police say Perry punched and kicked his friend, using an electric guitar, a microwave and kitchen knives to kill him. "I do think that his story, his reason behind this is true. He genuinely felt like his friend was changing into a zombie in his inebriated state," said Sgt. Moses Marquez of the Grants Police Department. Perry then allegedly ran around the apartment complex threatening people with a knife. That's why the original 911 call was placed. Do you believe Perry's story?
11/01/2015
TV
1730
34
By: sarahzahm
Earn Rewards Live
Comments