Results for - Mastering the art of drawing
2,936 voters participated in this survey
I'm no artist. Closest I've been to arts was during teenage years when I was writing poetry (was actually pretty good at it!). But I'm more of a science guy: numbers, facts, cause & effect. Even in my hobbies I prefer hobbies like chess and woodworking --> things you need to think about more then you feel.
Someone once told me that you don't know what you're good at or what you like until you try it. And ever since I tried s lot of things and discovered a lot about myself in the process.
Let's talk about drawing & painting, shall we?
1. Do you know how to draw/paint?
2. Do you think drawing is a talent you're born with or a skill that someone learns?
Mostly talent and a bit of learnable skill
Mostly learned skill and a bit of talent
3. Regardless if you know how to draw or not, would you like to learn how to do simple cartoonish drawings?
4. I'm actually the type who thought drawing was pure talent. I can't draw... my skills are laughable. Ask me to draw a horse and a monkey has a chance of doing a better job then me. BUT... recently I came across a Ted Talk that completely changed my perspective. The guy simply tells some basic tricks to draw cartoonish faces and... guess what: I was able to replicate and did quite a good job! Watch the video and try it yourself. Then create an avatar for yourself and set it as your profile pic. Is it cool or is it cool!
OMG, never knew I could do this! Amazing!
Cute - something to show others
Meh, not something I would care about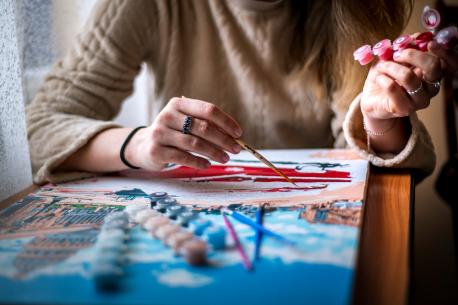 5. Have you ever tried number painting? (i.e. painting from a kit where numbers indicate what color to use where)
That's cheating! don't do it!
05/25/2022
Hobbies
2936
54
By: nicster1983
Earn Rewards Live
Comments