Results for - Rollerball Fragrance
1,562 voters participated in this survey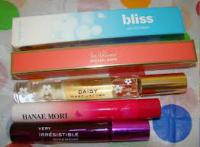 1. I went to Macy's and they had an entire kiosk dedicated to rollerball fragrances from current popular brands. Are you familiar with these?
2. The one that I wanted to purchase is 24.99 US dollars for 10ml (about 1/3 of an ounce, or 2 teaspoons). How does that price seem to you?
3. Obviously I research before I spend a penny. If you are familiar with these and other fragrance vehicles, please tell me in terms of getting the most for the dollar, which is the best to buy?
Fragrance in the form of a chapstick
09/15/2015
Beauty & Fashion
1562
31
By: ptajuggalette
Comments