Results for - Glambot offers used makeup
2,576 voters participated in this survey
A new beauty website called Glambot, takes used makeup from people that no longer want their product and resells it to people on a budget. The people who sell their products will get paid in either cash or a store credit. The amount of money they receive depends on the brand and the quantity of used products they sell. *Note the products sold are all sterilized.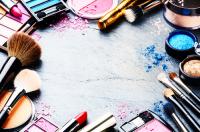 1. Are you familiar with this company?
Yes, I am familiar with this news story
No, I am not familiar with this news story
2. Would you consider purchasing used makeup, for a discounted rate?
Yes, I would consider purchasing used makeup to save money
No, I would not consider purchasing used money in order to save money
3. Do you think it is hygienic to sell used makeup, even if it has been sterilized?
No, I do not think it is hygienic
Yes, I do think it is hygenic
4. Would you ever consider selling your used makeup products in order to make a profit?
5. Do you think this company is a good idea for makeup lovers on a budget?
Yes, I think it is a good idea
No, I do not think it is a good idea
09/22/2015
Beauty & Fashion
2576
54
By: Tellwut
Comments