Results for - Arby's Venison Sandwich
2,163 voters participated in this survey
1. Last Friday Arby's released a new sandwich made with venison at a limited number of their restaurants. Did you hear about this?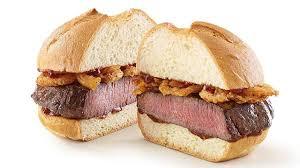 2. The sandwich is described as "thick cut venison with crispy onions and a juniper berry sauce". Does this sound like something you'd want to try?
3. The major restaurant chain severely underestimated the popularity of this new sandwich, and some places sold out of what they had on hand in just 15 minutes. Were you able to try one?
I tried, but they ran out.
4. If you tried one, did you like it?
5. Do you think Arby's should make this a permanent addition to their menu?
11/15/2016
Food & Drink
2163
51
By: MamaV1776
Comments