Results for - Octopus Stinkhorn
1,957 voters participated in this survey
1. (Source: kew.org) This time-lapse video, shot by Kris Van de Sande, follows the hatching and maturity processes of the devil's fingers (octopus stinkhorn) This fungus is unique in its shape. It hatches from an egg-like stage and develops four to eight arms which move freely. Its reddish inner skin is dotted with black spores and exudes a horrid smell that'll make you feel as if you're in a horror movie. It can be found on soil, often amongst decaying wood chips, around old stumps, or in leaf litter, growing in clusters. Was the video interesting for you?
2. The octopus stinkhorn is native to Australia and New Zealand, and has been introduced elsewhere. It is now present in parts of Europe, where it was first recorded in 1914 in France, apparently introduced with military supplies at the start of the First World War. It is also found in North America, especially in California, where it was first reported in 1982 and considered to have been introduced with exotic plants. Is this fungus available in your area?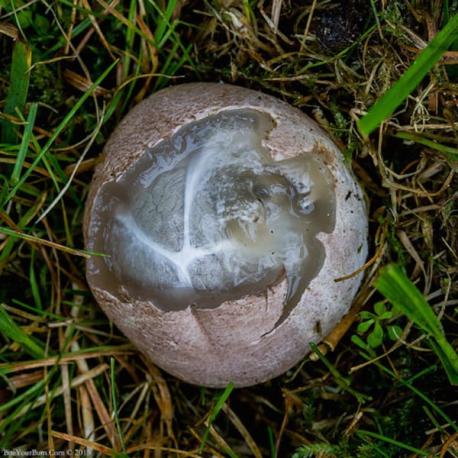 3. The egg-stage is ovoid in shape and 4 - 6 cm high by 2 - 4 cm wide. The surface is whitish and soon becomes marked with furrows which outline the arms. The endoperidium (inner layer of fruitbody wall) is greenish-brown and gelatinous. The gleba (spore-bearing tissue) is olive-brown, blackish at maturity, mucilaginous (sticky), and borne on the inner face of the arms. The receptacle has a short, hollow stem 3 - 6 cm high and 1 - 3 cm wide and is pale below and pinkish above. It has four to eight slender, pointed, chambered, pink to reddish arms each 5 - 10 cm long. These are joined at the tip at first, but soon break free, spreading and drooping. The spore mass is olive-brown. Have you ever seen a fungus with similar growth cycle? If you did, please give us some details about it.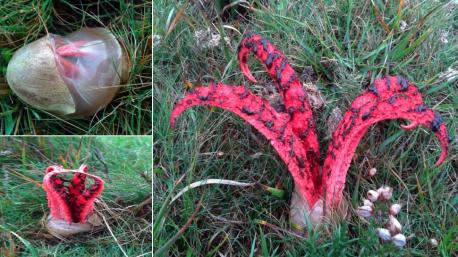 4. The unexpanded eggs of stinkhorns (Phallus species), despite their gelatinous nature, are eaten and even considered a delicacy in some countries. However, there is little such use for species of the genus Clathrus, and nothing seems to be known about such uses of C. archeri. The related C. ruber is said to be edible in the egg stage, although there is at least one early report of poisoning from this species. Clathrus ruber has also been suspected in France to cause eczema, convulsions, sickness and even cancer if handled. Did you ever eat these eggs?
12/06/2016
Food & Drink
1957
37
By: LBP
Earn Rewards Live
Comments