Results for - McDonald's adding menu hacks for a limited time!
3,038 voters participated in this survey
McDonald's is adding four fan-inspired hacks to its menu. For a limited time starting Monday, the hacks are available to order "by name" at participating restaurants nationwide or on the McDonald's app. The hacks include putting a Hash Brown in between a Sausage McMuffin with Egg, to adding Chicken McNuggets or a Filet-O-Fish to a Double Cheeseburger. -USA Today
1. If you eat fast food, is McDonald's your first choice?
No, another brand is my first choice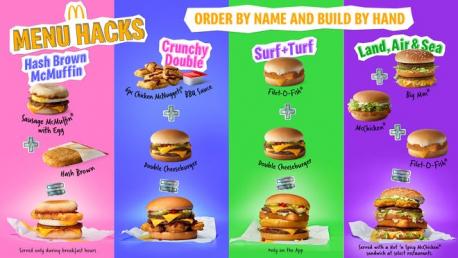 2. Which of the McDonald's hacks would you want to try? Select all that apply.
Hash Brown McMuffin- This menu item is only available during breakfast hours, which vary by location. It adds a Hash Brown to the Sausage McMuffin with Egg.
Crunchy Double- Chicken McNuggets are topped with a Double Cheeseburger. McDonald's says don't "forget to drizzle Tangy BBQ sauce on top for maximum flavor."
Land, Air & Sea- Take a Big Mac and add a McChicken and a Filet-O-Fish. The sandwich is served with a Hot 'n Spicy McChicken sandwich at select restaurants.
Surf + Turf-McDonald's said this sandwich combines a Double Cheeseburger and Filet-O-Fish "for a new take on a familiar plate"
3. What is your favorite dipping sauce for McNuggets?
4. Do you have a fast food hack, whether for McDonald's or another fast food place? If so, comment below!
01/28/2022
Food & Drink
3038
56
By: Tellwut
Earn Rewards Live
Comments