Results for - Cocktail hour
22,906 voters participated in this survey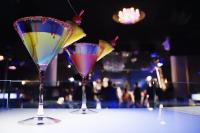 1. How do you like your martinis?
2. Which of the following do you own?
3. How many cocktails does it take for you to get charming?
okay… you're actually not all that charming right now…
4. What's your favorite cocktail?
5. If your next cocktail was to have fruit involved, you would like that fruit to be:
6. Have you ever invented a cocktail? Would you care to share the recipe with us?
04/03/2014
Food & Drink
22906
67
By: Quizmaster_154
Comments