Results for - Breakfast cereals
1,870 voters participated in this survey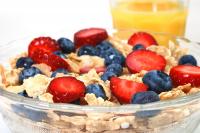 1. Do you generally purchase a healthy breakfast cereal?
I like my grains candy coated
2. Who is your favorite cartoon spokesperson?
3. Have you ever ordered cereal in a restaurant?
4. Which of the following do you prefer on your cereal?
5. How many different kinds of cereal do you have in your home right now?
6. What is your favorite cereal?
10/03/2012
Food & Drink
1870
26
By: Quizmaster_154
Comments