Results for - (Fine) Dining Out
906 voters participated in this survey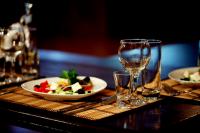 1. Which type of restaurant do you frequent most often?
2. Have you ever done any of the following in a restaurant?
eaten with your shoes off
eaten in front a belly dancer
asked for ketchup for something that cost more than $20
named the lobster you were about to send to meet his maker
received the Heimlich Maneuver
given the Heimlich Maneuver
3. Describe the strangest thing you've eaten in a restaurant.
4. How often do you dine out somewhere where the menu doesn't come with crayons or where you don't have to shout your order into a giant clown head?
not since the children were born
5. What is your favorite cut of steak?
6. How much was your share of the bill the last time you dined out?
08/03/2012
Food & Drink
906
12
By: Quizmaster_154
Comments