Results for - Breakfast
24,665 voters participated in this survey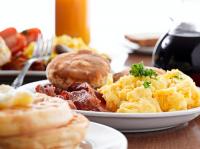 1. Do you eat breakfast every day?
I have breakfast everyday
I eat breakfast most days
2. Where do you eat breakfast during the week?
3. Do you have a more leisurely breakfast on the weekend?
I don't eat breakfast on the weekend
4. Do you agree that breakfast is the most important meal of the day?
5. What do you eat most often for breakfast?
Bagel, toast, muffin, donut
6. What do you drink with breakfast?
7. Do you know how to poach an egg?
8. Can you successfully cook a hard boiled egg?
04/03/2014
Food & Drink
24665
86
By: lizzy
Comments