Results for - Make me a sandwich
226 voters participated in this survey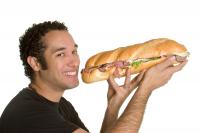 1. What would you call this type of sandwich?
2. Your favorite cured meat is
I can't tell the difference
3. Have you ever invented a sandwich?
4. Please describe your sandwich invention or say "None". There may be a prize for the best sandwich.
5. Your favorite mustard is:
6. How would you like your sandwich?
7. When did you eat your last peanut butter and jelly sandwich?
within the last day or two
within the last couple of months
so long ago that you can't remember
05/15/2012
Food & Drink
226
14
By: Quizmaster_154
Comments