Results for - French Fries
42,579 voters participated in this survey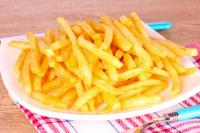 1. Who makes the best fries?
2. Have you ever made fries at home?
3. What do you prefer to have on your fries?
4. Do you use a fork?
Yes, but only if it's a proper wooden chip fork
5. Do you feed fries to your dog?
6. Does your dog deserve fries?
7. Given the choice of fries, soup or salad, how often do you choose fries?
10/11/2016
Food & Drink
42579
199
By: Billy_Whizz
Comments