Results for - Boy Chokes to Death on Marshmallow
1,701 voters participated in this survey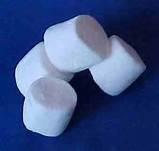 1. A 6-year-old boy choked to death on a marshmallow last weekend while with his family at a private campground on Carlyle Lake in Illinois. Prior to this survey had you heard this news story?
2. A similar incident occurred in 2010 when a fourth grader from Texas choked to death on a marshmallow at school while assembling ingredients to prepare s'mores for his class. Did you realize marshmallows are a choking hazard for children?
3. Which of the following foods did you know also pose a high choking risk for children?
Popcorn, peanuts, other nuts and seeds
Round and cylindrical hard candies
4. Every five days, a child in the United States chokes to death while eating. Were you aware of this statistic?
5. The American Academy of Pediatrics has recommended adding a warning label on foods such as hot dogs and marshmallows, which pose a high choking risk. Do you think labels would help prevent choking deaths?
07/12/2015
Food & Drink
1701
48
By: Bboopy13
Earn Rewards Live
Comments