Results for - Things go better with Coke! ... even temporary tattoos
1,652 voters participated in this survey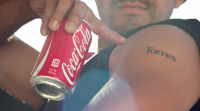 1. Coca-Cola kicks off National Hispanic Heritage Month (which runs from Sept. 15 to Oct. 15) with a line of temporary-tattoo cans, targeted to Hispanic and Latino Americans. Did you know that we are in the midst of National Hispanic Heritage Month?
2. If you are aware of the tattoos from Coke, have you received them with your purchase?
Buy Coke, but not interested in Tattoos
Buy Coke and have seen the tattoos
Maybe I didn't see them with my purchase
3. You can also order Coke online and customize the order with your last name? Would you do this?
4. What is your reaction to this campaign for NHHM?
09/23/2015
Food & Drink
1652
36
By: ptajuggalette
Earn Rewards Live
Comments