Results for - Sandwich of Shame
2,180 voters participated in this survey
1. Do you currently have children who buy school lunch on a regular basis?
2. If so, has there ever been an incident where your child did not have enough money in their account?
3. Did the school give them lunch anyway?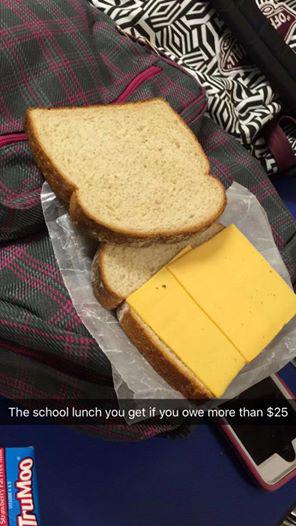 4. One high school in Kokomo, Indiana has devised a new lunch policy. If a student's account is more than $25 in the negative, they will be given a plain bread and cheese sandwich for their lunch. Have you heard about this?
5. After one student posted a picture of her "sandwich of shame" on the internet, there was a large outcry. Detractors of this policy feel it's humiliating to the children. Do you agree?
6. The school stated in response that over 500 students in this district are in arrears. And that if the school is that much in debt, they could lose their funding. Do you agree with the school's decision to hand out this type of meal to students who owe more than $25?
01/20/2016
Food & Drink
2180
80
By: MamaV1776
Comments