Results for - Why Did This Pandemic Turn Political, And How Can We Turn It Around...
2,584 voters participated in this survey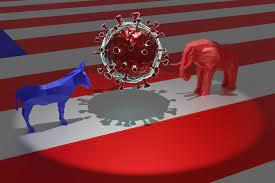 1. A year ago it seemed reasonable to hope that by early 2022 we'd mainly be talking about Covid — or at least Covid as a major health and quality-of-life issue — in the past tense. Effective vaccines had been developed with miraculous speed; surely sophisticated nations like the United States and Canada would find a way to get those vaccines quickly and widely distributed. So why didn't we get past the pandemic? Part of the problem, is that despite it always being a health crisis, somewhere down the line, it turned into a political crisis. Are you tired of this health crisis being turned into a political debate?
I think it is definitely a political debate
2. A Gallup survey released on Sept. 29, 2021 revealed that as of mid-September in the U.S., 92% of Democrats, 68% of Independents, and 56% of Republicans had been vaccinated. According to Gallup, 40% of Republicans "don't plan" to get vaccinated, versus 26% of Independents and just 3% of Democrats. And, even more disturbing, 23% of Republicans report that they will "definitely not" get vaccinated, compared to 11% of Independents and just 4% of Democrats. Are you surprised with the survey results?
3. The virus itself is not political, so therefore the response should not be politicized. Any country, regardless of its political environment, has the potential to achieve COVID-Zero. Without it, the pandemic will continue to last months if not years; after all, the pandemic is not over anywhere until it is over everywhere. To truly eradicate Covid, our countries have to put aside the politics and think in terms of what is best for our country as a whole, not as two divided political opponents. Perhaps most importantly, our countries' decision makers should avoid putting political agendas and personal judgments first, even if hidden, in their decision-making. A response is only as strong as the weakest link and requires collective efforts to protect the most vulnerable in our societies. Do you agree or disagree with this statement?
01/22/2022
Health & Fitness
2584
133
By: Harriet56
Earn Rewards Live
Comments