Results for - How do you sleep?
1,402 voters participated in this survey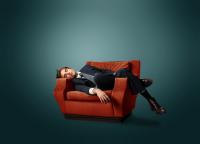 1. How many hours do you usually sleep each night?
2. Do you feel that you get enough sleep?
3. Which of the following do you do in bed before you go to sleep?
4. What sort of alarm do you use?
6. Do you share a bed with someone who snores?
7. How many pillows do you sleep with?
orthopedic or other special pillow
8. What time do you usually wake up?
12/30/2012
Health & Fitness
1402
7
By: Ms_tery
Comments