Results for - Proud2BMe
2,634 voters participated in this survey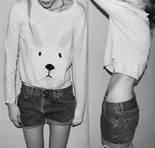 1. If you type "thinspiration"or "ana" into various social media networks, a disturbing world comes into focus with images of emaciated legs and drastic tips to drop weight. Prior to this survey were you aware of a pro-anorexia and pro-bulimia presence on social media?

2. The National Eating Disorders Association aims to combat the problem by using social media to fuel positive support in the lives of young people with Proud2BMe, an online community which encourages positive body imagery on social media sites. Have ever heard of Proud2BMe?
3. Proud2BMe tries to reach young people in support of all kinds of healthy bodies. One of their main initiatives, led last year by 19-year-old Benjamin O'Keefe, Proud2BMe's "teenage ambassador," resulted in Abercrombie and Fitch's expansion of clothing sizes. The company officially began carrying plus-sizes in November 2013. Have you heard about this organization before?
4. If you have a young person in your life, will you tell them about Proud2BMe?
03/05/2014
Health & Fitness
2634
19
By: Bboopy13
Earn Rewards Live
Comments