Results for - Interstitial Cystitis (IC)
1,641 voters participated in this survey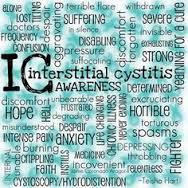 1. Interstitial cystitis,(IC) sometimes called painful bladder syndrome can cause discomfort similar to what you might feel with a urinary tract infection (UTI). But unlike a urinary tract infection that's caused by bacteria, interstitial cystitis cannot be treated with an antibiotic. . Although there's no cure for interstitial cystitis, there are medications that can offer some relief. Are you familiar with Interstitial Cystisis?
2. Melody Thomas Scott actress who played Nikki Newman on Young and the Restless is one of many celebrities who have been diagnosed with IC. These celebrities are attempting to raise money for IC research. Would you be willing to donate money for IC research even if you have never heard of the disease?
3. Alternative supplements such as Desert Harvest Aloe Vera and Marshmallow Root Tea have proven to ease the pain of IC for many patients . Are you in favor of more doctors suggesting natural alternatives in addition to prescriptions?
4. Although more and more doctors are gaining awareness of interstitial cystitis (IC), this condition may often be undiagnosed for a long time. And it 's not uncommon for someone with IC to see several doctors, over the course of many years, before they are actually diagnosed with the condition. Will you be doing more research on IC ?
5. IC Network and IC Association are two major groups working to promote treatment and a cure for IC. Will you commit to raise Interstitial Cystitis awareness ?
05/02/2015
Health & Fitness
1641
20
By: roses4teacher
Comments