Results for - Anthrax Snafu
1,784 voters participated in this survey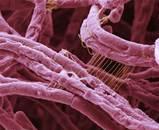 1. Anthrax is a serious infectious disease caused by rod-shaped bacteria known as Bacillus anthracis. It can be found naturally in soil and commonly affects domestic and wild animals. Anthrax spores can and have been used as a biological warfare weapon. Prior to this survey were you familiar with anthrax?
2. A US Army laboratory in Utah inadvertently distributed live samples of anthrax. Pentagon officials said Wednesday that it believes 51 laboratories in 17 states, the District of Columbia and three foreign countries might have received samples of live anthrax. At least 22 members of American forces in South Korea may have been exposed to live anthrax spores during a training event. Have you heard this news story?
3. Anthrax can enter the human body by being ingested, inhaled, or through the skin. Initial symptoms may resemble a common cold. After a few days, if not treated, the symptoms may progress to severe breathing problems and shock, and ultimately death. Death can occur as soon as two days after exposure. Did you realize anthrax could cause death so quickly?
4. Are you concerned this mistake could put the general public at risk?
06/09/2015
Health & Fitness
1784
25
By: Bboopy13
Earn Rewards Live
Comments