Results for - Carousel Horses
1,431 voters participated in this survey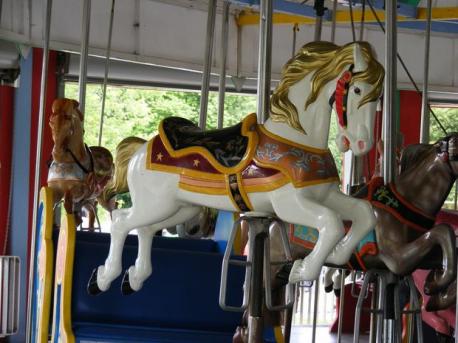 1. Medieval nobleman wanted a sport to replace their brutal jousting tournaments and turned to a training exercise of catching rings from horseback known in Spanish as carossela meaning "little war". The word carossela gave us carousel. The live horses were replaced with hanging revolving seats which then gave way to painted wooden horses, from there evolved the merry-go-round. Were you aware of this?
2. The carousel horses come in different styles, which (if any) of these are you familiar with?
Coney Island Style - fancy spirited horses with long flowing manes and highly decorated trappings.
Philadelphia Style - normally carved with life like poses to look realistic.
Country Fair Style - smaller very stylized horses that were intended to be transported.
Outside Row - these horses are the largest and most decorated.
Romance Side - this is the most decorated side of the horse.
Jumper - this horse has all four feet off the carousel platform.
Prancer - this horse has two feet on the platform and two in the air.
Stander - this one has three or four feet on the platform.
Stargazer - holds his head pointing towards the sky.
Lead Horse - this one is usually the most decorated on the outside row.
3. Finally, there was a lovely story I read over and over again as a kid about a pony called Merrylegs who gets fed up with being in a field all day long. One day the farmer takes him to the market where he notices the lovely colorful horses on the merry-go-round. He decides to run away and join them. The book is called 'The Discontented Pony' by Noel Barr, first published in 1951 by Ladybird. Have you ever read this book?
09/06/2016
Living
1431
18
By: foesracing
Comments