Results for - The Artwork of Bev Doolittle
1,957 voters participated in this survey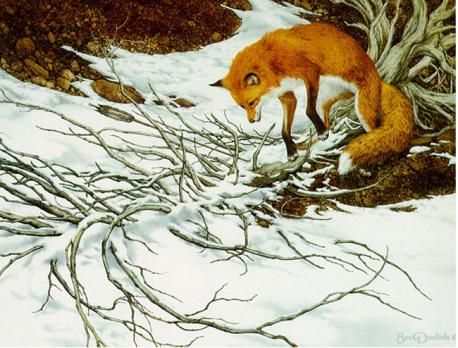 1. For the past few months I've been searching the thrift stores for a snow scene picture, I was especially looking for one that also featured an animal. I found this one today in Goodwill, matted and framed for $5.99. Are you familiar with the artist Bev Doolittle?
Yes, I have heard of this artist
No, I'm not familiar with her
2. This painting is called 'Missed", when you look at it do you think the fox was trying to catch something that got away or are you familiar enough with the artist to see something different?
It looks like the fox was chasing something that got away
I am familiar with the artist and can see an entirely different scenario
3. The artist works mainly in watercolor creating paintings of the American West, she is known for her camouflaging artworks that have an inner meaning which once discovered changes what you see. If you are able to get a clear image of this painting can you see anything that changes how you first interpreted it. If not the answer will be revealed in the next question?
Yes, I can see something other than the fox missing his catch
No, I didn't notice anything different
4. If you look carefully to the left of the painting you should be able to see an arrow. Do you like the way the artist shows a whole different story to the painting with her use of camouflage?
5. Finally, I checked on the internet and found many more paintings by this artist. Are you interested in checking her artwork out?
Yes, I would love to see some of her other paintings
No, not really interested
11/11/2016
Living
1957
28
By: foesracing
Comments