Results for - Unique spiders
1,829 voters participated in this survey
(Source: LiveScience) THE LEAF-MIMICKING SPIDER: A newfound and rare spider species from in China is the only spider that masquerades as a leaf. Masquerading is far more common in insects than in arachnids. About 100 spider species also sport physical features that make them appear inanimate and unappetizing, like a jumble of twigs, plant debris or a messy glob of bird poo. Its discovery was accidental, said the study's lead author, Matjaz Kuntner, a principal investigator at the Scientific Research Centre of the Slovenian Academy of Sciences and Arts. Can you let us know about any other interesting spider that camouflages so well?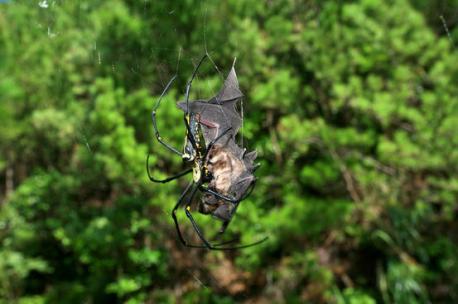 1. BAT-EATING SPIDERS: Spiders famously dine on flies, but there are quite a few that prefer a heftier meal. Bat-eating spiders can be found all over the world, but around 90 percent of them live in warmer climates. A common bat-killer is the Nephila pilipes spider, or Giant Golden Orb Weaver, which regularly catches bats in its web. These spiders can be found in many countries, including Australia, Japan and India. And females of this species can grow up to 8 inches (20 centimeters) long - much larger than the males. I've always thought the bats could be considered predators for spiders. I've just found out they can be targeted by spiders too. Have you ever seen a spider eating a bat or any other small animal?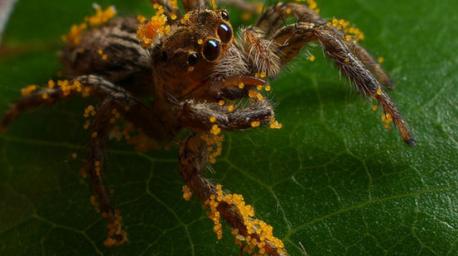 2. VEGGIE-EATING SPIDERS: Some spiders are healthy eaters that chow down on greens as part of their diet. A 2016 study investigated instances of spiders eating plant products and found that about 60 percent of the reported instances came from members of the jumping spider family (Salticidae). Researchers say that spiders might eat greens to make them more resilient in times of food shortages. In about 75 percent of reported cases, spiders were seen to be eating nectar, which can end up getting stuck all over their bodies. Some even feast on honeydew, and two species (Myrmarachne foenisex and Myrmarachne melanotarsa) have been seen "milking" honeydew from insects. Did you know that some spiders could also eat vegetables?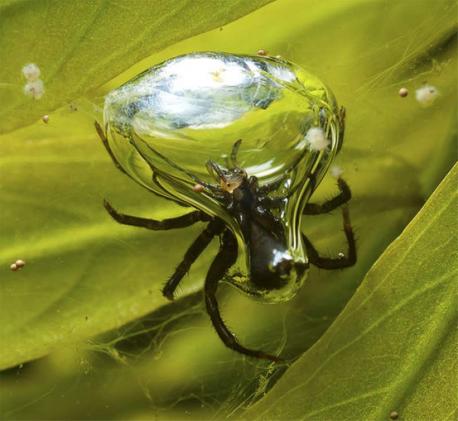 3. SCUBA SPIDER: Diving bell spiders (Argyroneta aquatica) can use air bubbles to breathe underwater, essentially treating them like mini scuba-diving tanks. The spiders are tiny, measuring just 0.4 to 0.6 inches (10 to 15 millimeters) long, so one bubble can supply more than a day's worth of air. German scientists mimicked extreme low-oxygen conditions in a lab and watched the clever critters construct webs between pondweeds and aquarium sides, and then collect large air bubbles on their abdomen and rear legs. Do you know other insects that use air bubbles to breath underwater?
12/02/2016
Living
1829
29
By: LBP
Earn Rewards Live
Comments