Results for - Dealing with the Instant Gratification Monkey
1,878 voters participated in this survey
Link for video included in Q1: https://www.youtube.com/watch?v=arj7oStGLkU
1. (Sources: Tim Urban, waitbutwhy.com & ted.com) Tim Urban has a funny hypothesis: he states that the brains of procrastinators are different than the brains of other people. Both brains have a Rational Decision-Maker in them, but the procrastinator's brain also has an Instant Gratification Monkey. The Rational Decision-Maker will make the rational decision to do something productive, but the Monkey doesn't like that plan, so he takes the wheel, he takes a detour going for some fun and easy plan. The Instant Gratification Monkey lives entirely in the present moment. He has no memory of the past, no knowledge of the future, and he only cares about two things: easy and fun. Are you a master procrastinator?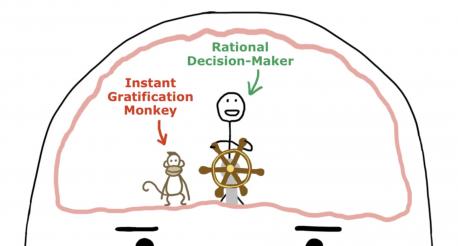 2. The Rational Decision-Maker wants to have us do whatever makes sense to be doing right now. Sometimes it makes sense to be doing things that are easy and fun, like when you're having dinner or going to bed or enjoying well-earned leisure time. That's why there's an overlap. Sometimes they agree. But other times, it makes much more sense to be doing things that are harder and less pleasant. And that's when we have a conflict. For the procrastinator, that conflict tends to end a certain way every time, leaving him spending a lot of time in an easy and fun place that's entirely out of the Makes Sense circle called the Dark Playground. Is there someone near you that can't keep their Instant Gratification Monkey under control?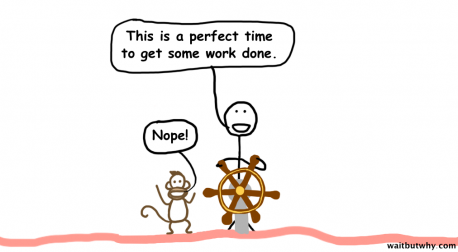 3. The procrastinator has a guardian angel, someone who's always looking down on him and watching over him in his darkest moments - someone called the Panic Monster. He is dormant most of the time, but he suddenly wakes up anytime a deadline gets too close or there's danger of public embarrassment, a career disaster or some other scary consequence. And importantly, he's the only thing the Monkey is terrified of. Do you tend to get too stressed when deadlines are close and you are behind?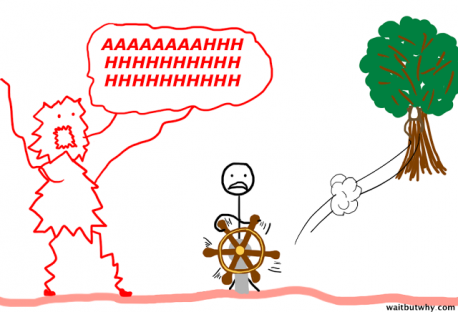 4. There's two kinds of procrastination. Some of them have deadlines. And when there's deadlines, the effects of procrastination are contained to the short term because the Panic Monster gets involved. But there's a second kind of procrastination that happens in situations when there is no deadline. There's all kinds of important things that don't involve any deadlines, like seeing your family or exercising and taking care of your health, working on your relationship or getting out of a relationship that isn't working. Does procrastination become more intense for you when your issues-to-deal-with don't have a deadline?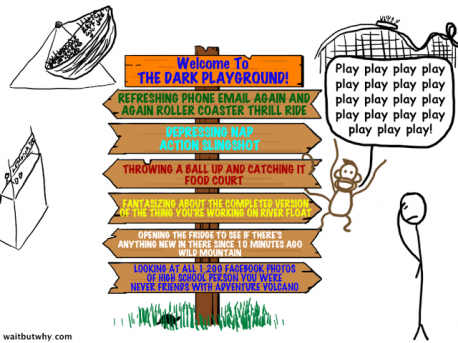 5. If the procrastinator's only mechanism of doing these hard things is the Panic Monster, that's a problem, because in these non-deadline situations, the Panic Monster doesn't show up. He has nothing to wake up for, so the effects of procrastination, they're not contained; they just extend outward forever. It's this long-term kind of procrastination that's much less visible and much less talked about than the funnier, short-term deadline-based kind. It's usually suffered quietly and privately. And it can be the source of a huge amount of long-term unhappiness, and regrets. Are you dealing with any long-term procrastination issues that bother you right now?
12/30/2016
Living
1878
19
By: LBP
Earn Rewards Live
Comments