Results for - Bad birdie
2,031 voters participated in this survey
(Source: BBC) Sometimes in nature, as well as in life in general, it's not about who works the hardest, but who is the smartest one. Here's a good example to see how it works between drongo birds and meerkats in the African desert. A drongo bird watches meerkats scavenge for food in the desert. First, the bird gains the meerkats' trust by warning them when an eagle approaches. Then he tricks them sounding a false alarm and swooping in to eat the food they left behind in their panic. Meerkats don't trust him anymore when they realize he was cheating, so the bird cannot fool them twice with the same trick. Going further, it learns to imitate the warning call of the meerkats' leader. With their catch lost and their pride hurt, the meerkats are fooled once again while the drongo bird enjoys its feast. In the comments: Can you mention any other animal that pretends to be something else to get food?
1. Drongos are masters of deception. The drongo is a songbird with glossy black feathers and garnet-red eyes. It impersonates the calls of other birds to steal food. It might send a real warning the first time, but it cheats as soon as possible. Did you know this African birds before this survey?
2. When tricks fail, the clever birds deploy another trick: they imitate their victim's alarm call or that of another species, which means that they are paying close attention to their target's responses to their calls, employing a sophisticated cognition that researchers usually reserve for humans only. Have you ever seen a drongo in his natural environment?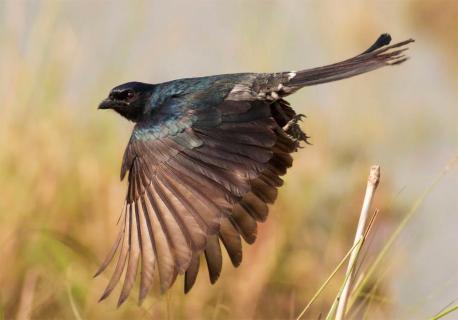 3. Does this bird's behavior remind you about how some humans work hard to know their victims so they can easily scam them?
01/05/2017
Living
2031
33
By: LBP
Earn Rewards Live
Comments