Results for - Dealing with givers and takers
2,313 voters participated in this survey
1. (Source: Adam Grant, Ted) Adam Grant is as an organizational psychologist. He states that paranoia is caused by takers, people who are self-serving in their interactions. It's all about what can you do for me. The agreeable taker, also known as the faker, is the person who's nice to your face, and then will stab you right in the back. When asked "Can you give me the names of four people whose careers you have fundamentally improved?", the takers will give you four names, and they will all be more influential than them, because takers are great at kissing up and then kicking down. Givers are more likely to name people who are below them in a hierarchy, who don't have as much power. We all know you can learn a lot about character by watching how someone treats their restaurant server or their Uber driver. Do you know someone who can be described as a taker?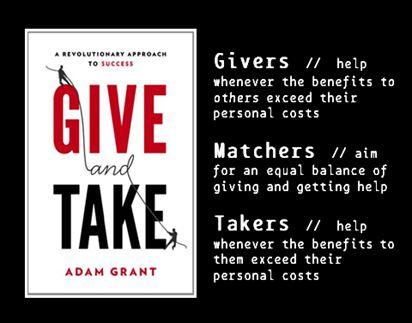 2. The opposite is a giver. Somebody who approaches most interactions by asking, "What can I do for you?" They tend to postpone their own work just to help others. Givers tend to be overrepresented at the bottom and the top of the performance charts. They are the most valuable people in any organization, but if the company is not careful, they can easily burn out. The agreeable givers are easy to spot: they say yes to everything. The disagreeable givers are gruff and tough on the surface but underneath have others' best interests at heart. Like somebody with a bad user interface but a great operating system. Dr. House is a great example. Disagreeable givers are the most undervalued people in organizations because they're the ones who give the critical feedback that no one wants to hear, but everyone needs to hear. Is there a giver in your life?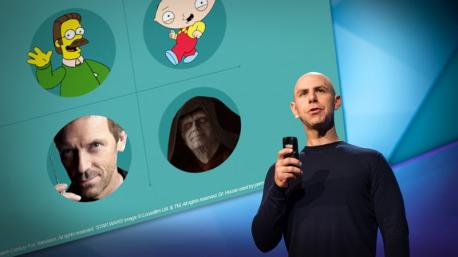 3. After surveying 30,000 people across industries around the world, Adam Grant found that most people are right in the middle between giving and taking. They choose this third style called "matching." Matchers try to keep an even balance of give and take: quid pro quo - I'll do something for you if you do something for me. Do you frequently have to deal with matchers?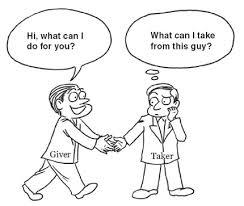 4. Givers are often sacrificing themselves, but they make their organizations better. The frequency of giving behavior that exists in a team or an organization - and the more often people are helping and sharing their knowledge and providing mentoring, the better organizations do on every metric we can measure: higher profits, customer satisfaction, employee retention - even lower operating expenses. To build a culture of productive generosity, you should get rid of takers. Let even one taker into a team, and you will see that the givers will stop helping. They'll say, "I'm surrounded by a bunch of snakes and sharks. Why should I contribute?" So, effective hiring and screening and team building is not about bringing in the givers; it's about weeding out the takers. If you can do that well, you'll be left with givers and matchers. The givers will be generous because they don't have to worry about the consequences. And the beauty of the matchers is that they follow the norm. Does this theory make sense for you?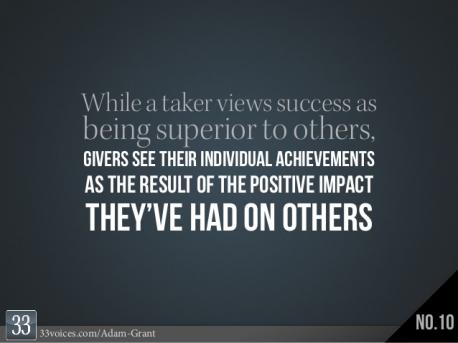 5. The most meaningful way to succeed is to help other people succeed. And if we can spread that belief, we can turn paranoia upside down. There's a name for that: pronoia, the belief that other people are plotting your well-being. That they're going around behind your back and saying exceptionally glowing things about you. Did you know the meaning of pronoia before this survey?
01/11/2017
Living
2313
40
By: LBP
Earn Rewards Live
Comments