Results for - Man delivers 300,000 pennies to DMV
1,880 voters participated in this survey
Now, that is a whole lot of change.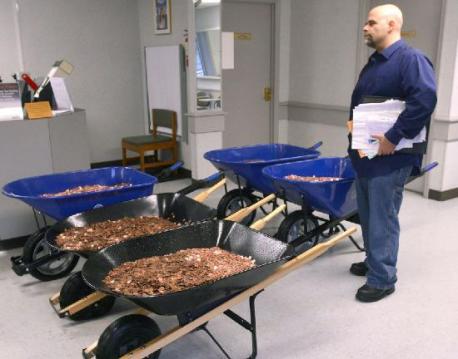 1. A Virginia man used 300,000 pennies to pay sales tax on two cars at the Department of Motor Vehicles. The Bristol Herald Courier reports that Nick Stafford delivered five wheelbarrows full of change, mostly pennies, at the DMW office in Lebanon, Virginia, on Wednesday. The coins weighed in at 1,600 pounds. Are you familiar with this news story?
2. Stafford said he paid in coins to "inconvenience" the DMV. Stafford was upset because he was unable to find out the direct number to the Lebanon DMV until filing a Freedom of Information Act request. Be honest, have you ever gone into a public place, and paid a bill with pocket change (aka coins)?
3. He later sued the state because he says he was denied direct phone numbers to other DMV offices in his area. Stafford ended up filing three lawsuits, which were dismissed Tuesday. If you were in the same situation as Mr. Stafford, would you have filed a lawsuit against the DMV?
01/15/2017
Living
1880
47
By: SmokeyandBandit
Earn Rewards Live
Comments