Results for - Today, January 18th Is Winnie The Pooh Day
1,614 voters participated in this survey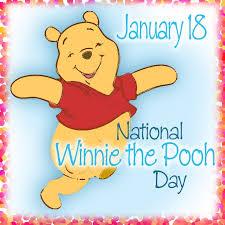 1. On January 18, 1882, the creator of Winnie the Pooh was born. A.A. Milne has created many children's characters and is the author of many books. Now, every year we celebrate Winnie The Pooh Bear Day on the day of the author's birthday. Did you read these books growing up or to your children?
Both -- myself and my children read them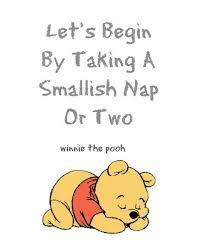 2. How will you celebrate Winnie The Pooh Day?
Watch some of the movies or cartoons
Use the #WinnieThePoohDay to post on social media
Go for a walk in the Hundred Acre Woods
Cuddle up with your stuffed animals
Take a smallish nap or two...
Visit the original stuffed animals in the New York Public Library
Celebrate by meet and greet at Disney with your favorite character in person
Go visit Winnie the Pooh's Star on the Walk of Fame in Hollywood
All of the above -- I'll be busy today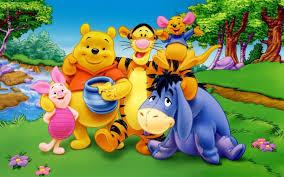 3. How many of these "beary" fun facts did you know about Winnie the Pooh and his friends?
A. A. Milne actually based his work on some very real stuffed animals—those of Milne's son, Christopher Robin Milne.
Milne gave his son a toy bear for his first birthday on Aug. 21, 1921. But that bear wasn't named Winnie: he was initially called Edward. The name Winnie came later, from a brown bear that Christopher visited in the London Zoo.
Harry Colebourn, a Canadian lieutenant and veterinary surgeon, had brought that bear cub to England at the beginning of World War I and named her for the city of Winnipeg, leaving her at the London Zoo when his unit left for France.
The actual Winnie was a girl bear
The Pooh part of the name actually came from a swan
The illustrations in the book were actually inspired by illustrator E. H. Shepard's son's stuffed bear, Growler
Most of the locations from the imaginary world were based on a forest near Milne's country home
The original plush toys can be seen at the New York Public Library, except for Roo (which Christopher lost)
The adventures of this popular bear have been translated into 50 different languages, including Yiddish, Afrikaans, and Esperanto
The Latin translation, in 1960, is the only Latin book to ever earn a spot on The New York Times best-seller list
Winnie the Pooh is now one of Disney's most popular characters of all time-- Disney purchased the motion picture rights in 1961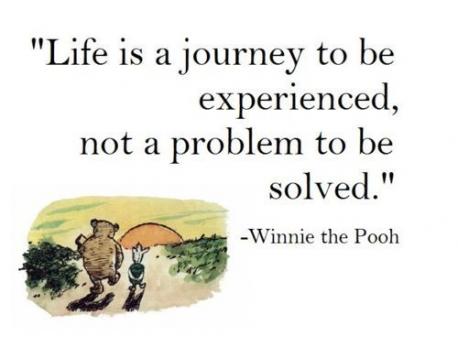 4. Here are some quotes to end this survey and start your day with. Which are your favorites?
You are braver than you believe, stronger than you seem, and smarter than you think.
Always watch where you are going. Otherwise, you may step on a piece of the forest that was left out by mistake.
Weeds are flowers, too, once you get to know them.
Sometimes the smallest things take the most room in your heart.
The things that make me different are the things that make me
Some people care too much. I think it's called love.
Piglet: How do you spell love? Pooh: You don't spell it, you feel it.
If you live to be a hundred, I want to live to be a hundred minus one day so I never have to live without you.
A day without a friend is like a pot without a single drop of honey left inside.
If there ever comes a day when we can't be together, keep me in your heart, I'll stay there forever.
Don't underestimate the value of Doing Nothing, of just going along, listening to all the things you can't hear, and not bothering
You can't stay in your corner of the Forest waiting for others to come to you. You have to go to them sometimes.
Rivers know this: there is no hurry. We shall get there some day
Love is taking a few steps backward maybe even more… to give way to the happiness of the person you love.
How lucky I am to have something that makes saying goodbye so hard.
01/19/2017
Living
1614
28
By: ghahrem5
Comments