Results for - 6-year-old boy celebrates end of chemo treatments with adorable dance
2,010 voters participated in this survey
It's a moment 6-year-old Jimmy Spagnolo's family has been waiting for since he was just 4 months old; the day the little boy would finally reach the end of his chemotherapy treatments, at least for now.
1. For years, Jimmy has been battling an inoperable brain tumor. So far, he's gone through four rounds of chemo to shrink the tumor. On Friday, the little boy was finally able to take a break. Are you familiar with this story?
2. Following a years-long tradition at the Children's Hospital of Pittsburgh, Jimmy rang a bell symbolizing that a person is either cancer-free or has reached a milestone in treatment. The bell signifies so many emotions, all coming through as one as people around them cheer this accomplishment. If you ever had a child go through chemo treatments, what emotions did it signify for you (or for your child)?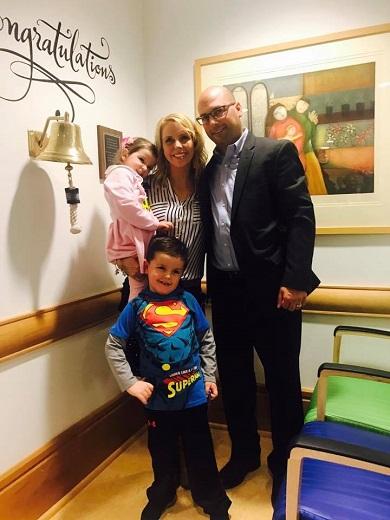 3. Wearing a Superman cape and a smile, Jimmy proudly rang the bell while jumping up and down with excitement. He even did a little dance before jumping into a family member's arms. His priceless reaction didn't just touch his family members, but people across the country who are facing similar struggles. Have you read any of these Facebook comments for Jimmy?
"Brings me to tears watching him jump up and down with that smile...amazing! Congratulations little guy! My son has one more year to go!" one Facebook user commented.
"Awesome! I pray that a year from now our son will be able to ring that bell," another wrote.
"Dear Jimmy Spagnolo, You are truly a hero! I am so proud that you made it through your last chemo treatment!"
"Beautiful boy! You made this world a happier place with your VICTORY!"
It's like your own personal "battle cry," Jimmy's family said.
4. "We all came alive in that moment to share with Jimmers is ending to something hard and his beginning to new hope for his future," Jimmy's family posted on a Facebook page Facebook page (link: https://www.facebook.com/prayingforjimmers/) that chronicles his journey. "There are no words to truly describe the feeling we felt today." The 6-year-old still has a tumor, but it's much smaller than it was and doctors are hopeful that, with close monitoring, Jimmy may be able to live his life with it. "Jimmy is here for a purpose, and his purpose is to spread hope and love and inspire people," Spagnolo told CBS Pittsburgh. "And that's all he does." Do you agree that Jimmy is here for a purpose, and he is also here to spread hope, love and inspiration?
02/18/2017
Living
2010
30
By: msrcms
Comments