Results for - ...Knew It Was Only A Matter Of Time
2,110 voters participated in this survey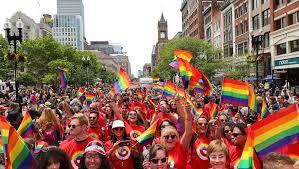 1. Sigh...of course, it was bound to happen. Despite all the information out there explaining what the Pride parades and celebrations are all about -- not the need to be proud of being "gay", but the need to be accepted and allowed to live without fear of discrimination, persecution, violence or hatred towards them -- a Boston group calling itself Super Happy Fun America has applied for a permit to hold a "Straight Pride" parade. City officials say the group has been in contact with them, but hasn't received permits. Organizers want to host the parade in August. Your opinion on this?
Totally ridiculous and it's obvious this group has no clue what the Pride movement is all about
I totally agree with this idea. It's about time we straight people had our own parade
I can see where they are coming from, but the idea of an actual parade is unnecessary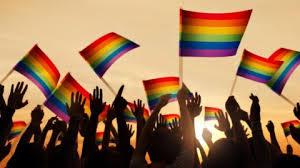 2. Although the straight pride event has not yet been confirmed, it has not stopped many people weighing in to criticize the idea. "Every day is a straight pride parade," wrote author Craig Rozniecki, arguing that heterosexuals' privileged position over gay people renders the concept of their needing pride events redundant. "You all want a straight pride parade but where's your straight stonewall?," asked another user, who added: "Where are the families throwing you out for being straight? Where are the police raiding your bars, invading your privacy, fining and locking you up for existing? You want the fun part, but can't handle the worst part." This year is the 50th anniversary of the Stonewall riots which led to the birth of the US gay rights movement in June 1969. Former Minnesota State Senate candidate, Shawn Olson, suggested that rather than be aggrieved by the lack of straight pride events, heterosexuals should "be grateful you don't need one". Do you understand why Pride parades and events are held?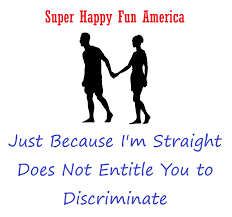 3. The Super Happy Fun America is a group organized by three men who claim to advocate "on behalf of the straight community". Vice president Mark Sahady, a member of the right-wing group Resist Marxism, has organized several controversial demonstrations, including a Rally for the Republic in 2017 that drew less than 100 right-wing demonstrators and a pro-gun protest in response to the March for Our Lives in 2018. Their president is John Hugo, a Republican candidate for Massachusetts' 5th Congressional District in 2018. He lost to U.S. Rep. Katherine Clark, D-Mass., by 76%-24%, for the suburban Boston seat. One other member is not identified. The group says on its website that Brad Pitt is its mascot, calling him "a hero to straight men all around the world." Hugo is quoted as calling straight people an "oppressed majority." Do you think these men are serious, dangerous, delusional or just a laughing stock?
A mixture of all the above
I feel this group is long over due
06/08/2019
Living
2110
93
By: Harriet56
Comments