Results for - The Case of the Frou-Frou Fish
2,333 voters participated in this survey
On a rainy Sunday afternoon while off on my surveycation, a futile search for a movie to watch led us to the original "Perry Mason" show. My daughter and I decided to view an episode. We ended up sampling episodes across several seasons. Okay. We've been binging on it off and on for several weeks. But, that is not what this is about.
1. During the end credits, slides of sponsored products were shown at the side or bottom of the screen. This was something I don't recall having seen before. Most of the products featured didn't spark any memories, either. Are you familiar with any of these?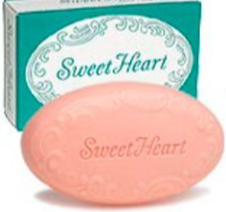 2. But I did recognize one product: SweetHeart soap. Now, it's safe to say, this pretty "deluxe bath soap" never graced the edge of our tub. My parents were Zest-fully clean for at least 50 years. There were exceptions. Ivory floated and bobbed in the water when we were very small. And on one gloriously disappointing occasion, we had a Fuzzy Wuzzy Bear soap who grew his own "fur." (Ours looked like he had mange which made me very sad, but Dad taught me the "Fuzzy Wuzzy was a Bear" poem which made me happy.) Have you ever used any of these?
SweetHeart Deluxe Bath Soap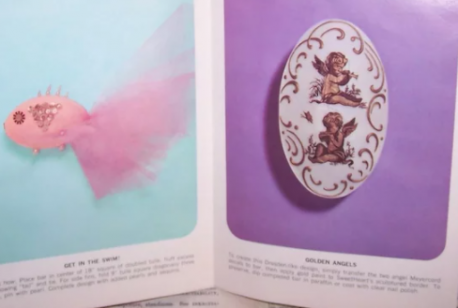 3. An internet search for SweetHeart soap took me to Etsy and Pinterest and points west, and I happened upon the most astounding thing. The source of my memory- an image similar to the frou-frou fish that sat atop my Grandma's dresser when I was a child. Strangely, my tomboyish little soul had yearned toward this trinket: an oval of pink soap wrapped in crisp white tulle and decorated with sequins and beads and the tiniest of satin bows. Not in my wildest dreams had I expected to find this object d'art anywhere but my memory. Are you surprised?

4. Apparently, crafting with SweetHeart soap was something of a thing mid 20th century. Customers could order small kits like the one shown to use in decorating their soap tablets. Have you ever made any kind of handicraft from a kit?
5. My only other memory of SweetHeart soap is of an evening at the kitchen table with Mom when little. She gave me pins and sequins and let me try painting the swirls embossed on the bar. Needless to say, my vision and my ability to execute it were miles apart. Mom was sweetly encouraging and ultimately shipped my project off to her own mother as a Christmas gift. (Thanks, Mom. Wish you knew how much that memory means to me now. And for teaching me to finish what I start.) Have you ever attempted a project like that didn't turn out quite the way you had hoped?
09/17/2021
Living
2333
30
By: Desk
Comments