Results for - Grammatical Pedantry Syndrome
2,337 voters participated in this survey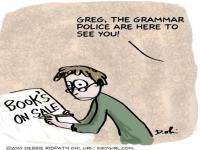 1. Some people think those who go around correcting other people's grammar are annoying. There is evidence they are actually suffering from a type of obsessive-compulsive disorder/oppositional defiant disorder (OCD/ODD). Researchers are calling it Grammatical Pedantry Syndrome, or GPS. Have you heard of GPS?
2. Bob Lowth, founder and president of the Society for the Propagation of Pure English (SPoPE), strongly objects to this kind of medicalization of grammatical correction. "It's bad English that's sick, not correcting it," Lowth complained. Do you agree with Mr. Lowth?
3. Do you ever feel the compulsion to correct other people's grammar?
06/25/2014
Living
2337
64
By: Bboopy13
Earn Rewards Live
Comments